Poison Apple Cocktail-Royal Crown Apple and Pucker
The Poison apple Cocktail with sour apple pucker and Crown royal apple will liven your Halloween festivities.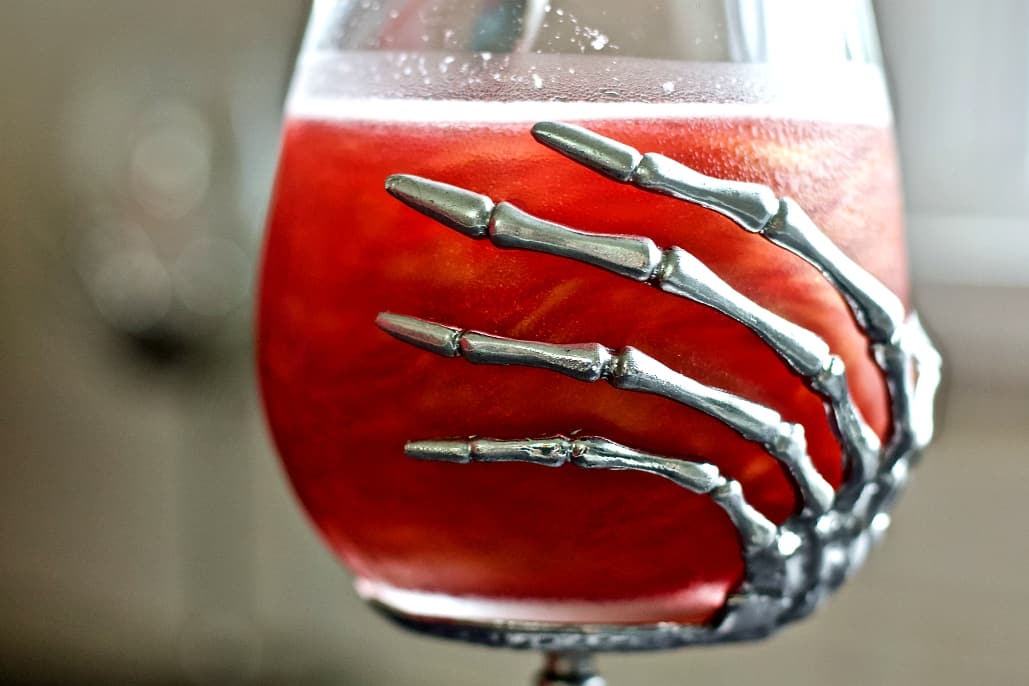 Serve this Beautiful and wickedly Iridescent Fall cocktail as a single serving or party punch. It smacks of rich apple cider flavor.
Looking for More Fall Cocktails? Try one of these!
And How about that Skeleton Hand glass? I just love how it sets the tone for this Poison Apple. I found mine at T.J. Max.
Pottery barn also carries glasses with this motif but they are spendy. I suggest you look around if you have the time.
Drink it at your own risk!
You will want to warn your guests. This Halloween drink packs a punch. Careful of driving with too many cups of the Poison Apple under your belt. Could send someone straight to the graveyard.
The Poison Apple Halloween Cocktail
This halloween alcoholic drink is perfect for a party. You can make it in just a few minutes without the extra fuss of rimming your glasses or fancy garnishes.
The Ingredients:
The secret to presenting this drink in a really awesome way is that little tiny jar you see pictured below.
Adding the glittering Super gold Luster dust into this apple red drink brings in the ambience of mystery and danger.
These ingredients are all easy to find in your local grocery store EXCEPT the luster dust. I ordered mine off Amazon. Any craft store will probably have something similar. Just make sure it's FOOD SAFE.
Crown Royal apple drink recipes like this one and our Crown Royal Apple Caramel Whiskey drink are perfect for Fall.
This is my first Sour apple pucker drink, ever. I really love that pucker apple schnapps! It blends well with the crown royal apple.
This Poison apple drink has a delicious apple cider vibe.
Making the Poison Apple:
Here is our step by step visual guide to making this easy cocktail. This is a good Halloween party choice since it's very easy to put together and is served with no ice. Just shake and pour!
To Make this drink into a punch:
The only thing to remember about this cocktail is the luster dust will sink to the bottom of the punch bowl if left unstirred for a while. So use a ladle to swirl it back into the drink during serving.
You may also prefer to eliminate the gold dust altogether for a punch bowl. It is a nice effect but will not affect the flavor of the drink at all.
The Proportions for 10 servings
20 oz crown apple
10 oz sour apple schnapps
7.5 cups cranberry/pomegranate juice
10 oz grenadine
2.5 tsp luster dust (or as needed)
Punch bowl Instructions:
This cocktail can be served at room temperature. If you prefer to cool it Add ice as necessary. Be careful of diluting the beautiful apple cider flavor. Best to offer ice at serving in a bucket (maybe a cauldron?) by the punch bowl.
Multiply the ingredients by the number of servings you prefer.
Simply mix all of the ingredients into the punch bowl and stir for the gold luster dust to create the swirl effect. Proper lighting from the side will benefit the presentation of this drink on your table. Let it glow if you can.
Printable Recipe Card:
Yield: 1 cocktail
Prep Time: 5 minutes
Total Time: 5 minutes
The Poison apple Cocktail with sour apple pucker and Crown royal apple will liven your Halloween festivities. Beautiful and wickedly Iridescent this Fall cocktail smacks of rich apple cider flavor.
Ingredients
1 oz. Sour Apple Pucker Schnapps
2 oz. Crown royal apple
3/4 Cups cranberry juice
1 oz. grenadine
Instructions
Add Ice to your cocktail shaker
Measure and pour in all ingredients
Shake the cocktail shaker at least 30 seconds
pour the cocktail
Notes
Garnish Suggestions:
Luster Powder added in with the other cocktail ingredients will give this drink an iridescent glow in the correct light.
Choose a glass Like the skeleton hand or other Halloween Motif to create a spooky feeling with this swirling cocktail.
Recommended Products
As an Amazon Associate and member of other affiliate programs, I earn from qualifying purchases.
Nutrition Information:
Yield:
1
Serving Size:
1
Amount Per Serving: Calories: 430 Total Fat: 1g Saturated Fat: 0g Trans Fat: 0g Unsaturated Fat: 0g Cholesterol: 0mg Sodium: 22mg Carbohydrates: 70g Net Carbohydrates: 0g Fiber: 5g Sugar: 56g Sugar Alcohols: 0g Protein: 1g